Hello! I am Scarlet Pairo, an administrator on Donkey Kong Wiki since April 2021.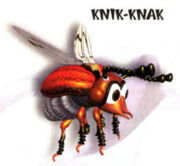 You may also find me on DK Vine - I'm registered under the name "Knik-Knak" (you know, the beetle from DKC3). http://www.dkvine.com/interactive/forums/index.php?s=9b31afe1b91c6e52f1f3d36035a50369&showuser=1177730
I'm currently working a lot on organization on the discussions page and I'm working on article stubs and generally missing information. I have been a Donkey Kong fan for a while now, and my first ever DK game was Donkey Kong Country Returns. The only spin-off I have played is Donkey Kong Barrel Blast.
Favorite Kongs
Favorite Kremlings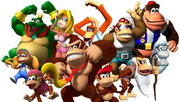 My current Tasks on Donkey Kong Wiki
Making more pages redirecting to other pages
Creating Donkey Kong Country and Donkey Kong Country 2 navigation templates.
Organizing the discussions page
Keeping the wiki active
Marking article stubs and articles without infoboxes with the categories "Article Stubs" and "Articles in need of infoboxes"
Friendly users on Donkey Kong Wiki
Dogleader
CloningYoshi
One9ki
Brunoxsa

Progress on all DKC games
Rareware
Donkey Kong Country: 89%
Donkey Kong Country 2: Diddy's Kong Quest: 102%
Donkey Kong Country 3: Dixie Kong's Double Trouble!: 105%
Donkey Kong Land: 0%
Donkey Kong Land II: 0%
Donkey Kong Land III: 61%
Donkey Kong Country (GBA): 12%
Donkey Kong Country 2: Diddy's Kong Quest (GBA): 13%
Donkey Kong Country 3: Dixie Kong's Double Trouble! (GBA): 103%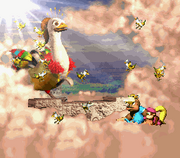 Retro Studios
Donkey Kong Country Returns: 200%
All DKC games ranked (best to worst)

Animal Buddies ranked

Top 5 Kremlings