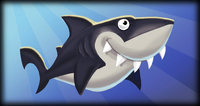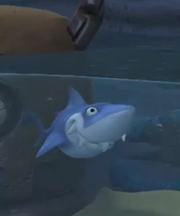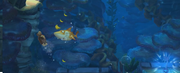 Snaggles
are sharks that jump out of the water to bite at anything and are found in the game
Donkey Kong Country Returns. They a
re mainly found in the
Beach
levels, along with World 3: The Ruins. They look like great white sharks in their color theme. However, they have large heads and round bodies. The only way to kill a Snaggle is to throw a barrel (of any kind) at it, knocking it out of sight.
There are many different kinds of Snaggles. The Mega Snaggle is found only in The Ruins, in 3-4: Damp Dungeon. This kind of Snaggle is more aggressive and will jump a lot faster. The Gold Snaggle is found mostly in The Beach, and are a bit faster than the regular Snaggles. The Snaggles also appear in 2-3: Peaceful Pier, where they jump out of the water and try to damage the Rocket Barrel.
They also later returned in the game Donkey Kong Country: Tropical Freeze.

"Okay, I'll do the article for you! ... Naw! ... Only kidding!"
This article or section is a stub. You can help Donkey Kong Wiki by expanding it.
Community content is available under
CC-BY-SA
unless otherwise noted.