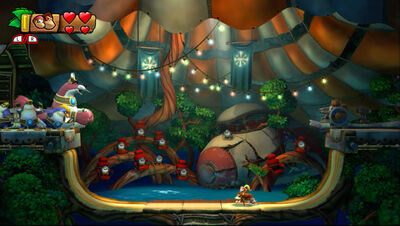 The Sliding Sphens are slightly smaller versions of the Big Sphens and instead of using horns to summon Finleys, they will slide towards Donkey Kong or Funky Kong.
The Sliding Sphens are only seen in the Lost Mangroves Boss Stage, "Big Top Bop".
They are not availible figurines in Donkey Kong Country: Tropical Freeze.
Sliding Sphens are summoned by Pompy, The Presumptuous to knock the Kong Family down a peg.