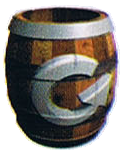 Rotatable Barrels are a type of Auto-Fire Barrel introduced in Donkey Kong Country 2: Diddy's Kong Quest.
They function similarly, however, these, as the name suggests, can be rotated and aimed before firing (though there is a hidden time limit). These Barrels were carried on to Donkey Kong Land 2, Donkey Kong Land III and DK: Jungle Climber. The latter three games had no time limit for how long a Kong could stay in, where there was one in Donkey Kong Country 2.
Community content is available under
CC-BY-SA
unless otherwise noted.