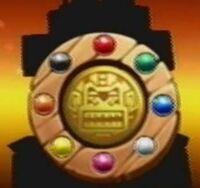 Rare Orbs are mystical round crystal balls found in the Key Temple levels of the games Donkey Kong Country Returns and Donkey Kong Country Returns 3D. Together, the eight Rare Orbs hold the power to open the door to the Golden Temple.
Overview
To collect Rare Orbs, the player must first clear all regular levels in each world with all the K-O-N-G Letters collected once, earning Red Star Emblems. It also includes levels locked by Map Keys. Upon doing so, an extra level, called Key Temple, will be revealed in the same world. By completing each Key Temple, the player will earn a Rare Orb.
The Key Temples are usually more difficult levels because they lack Tutorial Pig's checkpoints. They are made up of difficult platforming levels, vertical levels, and classic barrel shooting levels. A Rare Orb is held in a shrine at the end of a Key Temple. To collect it, the Kongs must jump towards it.
After defeating the final boss Tiki Tong and completing any game version once, the Golden Temple will reveal itself in the overworld map of Donkey Kong Island. By entering the Golden Temple and positioning the Kongs next to the sealed door, the Rare Orbs will be automatically put on their slots. All the eight Rare Orbs will open the door and after going through it, a cutscene will show the primates reaching to an altar inside and finding a Golden Banana. Donkey and/or Diddy Kong will peel and eat the mysterious banana, and be teleported to another place. In Donkey Kong Country Returns, the player will be able to access the Golden Temple level which by being cleared unlocks the Mirror Mode. In Donkey Kong Country Returns 3D, a location containing the same Golden Temple level and eight exclusive levels, the Cloud world, will become accessible.
Rare Orb Locations
Trivia
In the game Donkey Kong Country: Tropical Freeze, clearing the Key Temple levels rewards the player with Mysterious Relics, items functionally similar to Rare Orbs. All the seven Mysterious Relics, including the one obtained by defeating Lord Fredrik, the final boss, are necessary to access the Secret Seclusion world in the game.