"Now, off you go!! See if you can't finish this ridiculous article without my help!"
This article or section is a stub. You can help Donkey Kong Wiki by expanding it.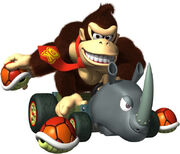 The Rambi Rider is Donkey Kong's first kart found in Mario Kart DS. The front of it appears to be a Rambi head with the back being a large wooden Animal Crate.
Statistics
Speed - ☆☆☆☆☆☆☆
Acceleration - ☆☆☆☆
Weight - ☆☆☆☆☆☆☆☆☆☆
Handling - ☆☆☆
Drift - ☆☆☆☆☆☆☆
Items - ☆☆☆☆☆☆☆☆☆☆