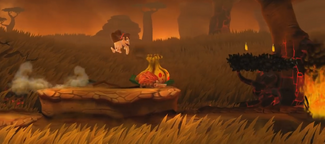 Porcupal are enemies that appear in Donkey Kong Country: Tropical Freeze.
Appearance
Porcupals have a long snout, and have a porcupine-like body. They have a rather determined look in their eyes. They also have a red palette for their spines, which signifies their fire aura that they create through unknown means.
Strategy
The Porcupal will set itself on for for 3 seconds, but can be taken care of by rolling into them. They appear in Scorch N' Torch, where they, presumably, are the reason why the entire level is on fire, mostly.