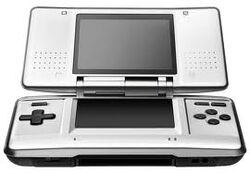 The Nintendo DS, also called "DS", is a handheld game system released by Nintendo in North America on November 21, 2004, during the seventh generation. It features two screens, which the lower one is touch-sensitive. The "DS" stands for Developers' System or Dual Screen. The system uses many new features, such as stereo sound, microphone and 3D graphics. The system is accompanied by a Stylus[1], a pen-like pointer to interact with the touch screen. The DS also provides backwards compatibility[2] for Game Boy Advance games with a game card slot. The game system received new models over the years, including the DS Lite[3], DSi[4] and DSi XL.
Nintendo DSi model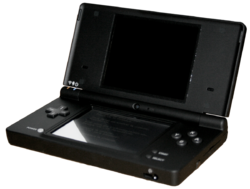 The Nintendo DSi model, released in Japan on November 1, 2008, features two digital cameras and a voice recording system. The new model is compatible with games from the original model, but lacks the GBA game card slot. At the time, DSiWare games could be also bought online on the DSi Shop using Nintendo Points.
List of Donkey Kong games released for Nintendo DS
Other Nintendo's Franchises and Spinoffs
Gallery
Trivia
References
Community content is available under
CC-BY-SA
unless otherwise noted.