The Nintendo 3DS, often abbreviated "3DS", is a handheld game system released by Nintendo in Japan on February 26, 2011, during the eighth generation. It is a device capable of projecting stereoscopic 3D effects[1] without the use of 3D glasses or additional accessories. The system succeeds the Nintendo DS, featuring backward compatibility[2] with Nintendo DS and Nintendo DSi[3] games.
Later Models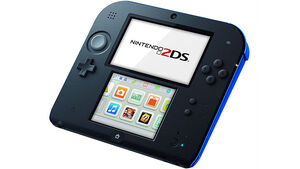 A partially redesigned version of the device, the Nintendo 3DS XL, was released on July 28, 2012. It featured screens that are ninety percent larger than the original Nintendo 3DS model.
The Nintendo 2DS[4], or "2DS", was released on October 12, 2013. This model featured similar hardware, functions and compatibility with games from the Nintendo 3DS. However, it lacked the stereoscopic 3D effects from the original model. The Nintendo 2DS's target audience were younger players (until seven years old), which the use of the 3D functionality was unadvised by Nintendo due to health concerns.
On October 11, 2014, a newer version of the 3DS was released, that was literally called the New Nintendo 3DS[5]. This model had a screen 1.2 times bigger than the original one, as well as being able to support Amiibo[6].
List of Donkey Kong games released for Nintendo 3DS
Other Nintendo's Franchises and Spinoffs
Gallery
Trivia
Due to health concerns about the prolonged use of stereoscopic 3D effects during gameplay sessions, most of the Nintendo's first party titles on the Nintendo 3DS display messages advising the player to take a break after playing for thirty or sixty minutes. The operations manual of the Nintendo 3DS also warns that the player must to take breaks of ten or fifteen minutes for every hour of gameplay even if they do not feel tired.[7]
References