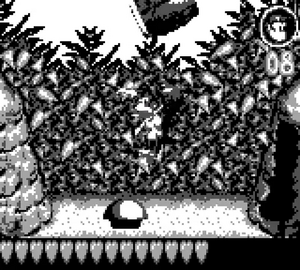 Kong Tokens are common collectables found in stages of the game Donkey Kong Land. They are used by the Kongs for receiving extra lives inside Bonus Rooms containing Button Barrels.
Overview
Kong Tokens are coins which have a picture of Donkey Kong on one side and Diddy Kong on the other. When the game is turned off, the current amount of tokens is lost, but the game keeps track of how much the player has collected.
Kong Tokens can only be used in Bonus Rooms where there is a Button Barrel. Inside the small room, the Barrel Cannon is at the top of the screen, moving back and forward, and rotating 180 degrees constantly. The primates can step on the button below of it in order to trigger the barrel to shoot Kong Tokens. If the player is able to get the item, they will earn an extra life. However, good timing is required by the player when pressing the button, because of the movements of the Button Barrel making easy to miss the tokens shoot. There is also a time limit of five seconds for staying inside these Bonus Rooms. And the ammunition of the Button Barrel is limited by the number of Kong Tokens collected by the player before entering the room.
Gallery