"Okay, I'll do the article for you! ... Naw! ... Only kidding!"
This article or section is a stub. You can help Donkey Kong Wiki by expanding it.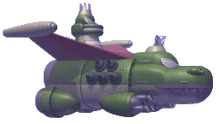 The King Kruizer IV is the second stage and boss stage of the fifth world, High High Island, in the game DK: Jungle Climber. It is King K. Rool's new spaceship in the game. After invading the ship, Donkey and Diddy Kong fight against a fully functional Mega AMP for the second and last time. After the Mega AMP is defeated, K. Rool uses a Spirowarp to teleport through a wormhole to the Planet Plantaen.
Trivia