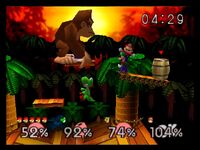 Giant Donkey Kong, or Giant DK, is an enhanced form of Donkey Kong that appears in the Super Smash Bros. series. In this form, DK is bigger, stronger, and has more resistance to being KO'd. However, due to his size, he is easier to hit.
He first appeared in Super Smash Bros. as a boss, fought in 1-Player Mode in the 6th stage. Because of his incredible power, two characters are offered to the player as partners.
Giant Donkey Kong also appears in Super Smash Bros. Melee in two distinct places. The first is in Adventure Mode, where he appears after two Tiny Donkey Kongs are defeated. Unlike the previous game he is fought alone, with no allies. He also appears in events 2 and 25 in Event Mode. In event 2, he is the playable character and must defeat Tiny Donkey Kong. In event 25, the player must defeat him using Giant Bowser.
In Super Smash Bros. Brawl, Giant Donkey Kong appears as a secret opponent in Event 9. If the player doesn't KO the two Diddy Kongs fast enough, Giant DK must be fought as well. He also appears in Event 22, as Diddy Kong's partner, in which the player uses Diddy to defeat Sheik from the Legend of Zelda series and Lucario the Pokémon.
In Melee and Brawl, Donkey Kong can become his giant form by collecting a Super Mushroom or by playing Giant Melee/Brawl.