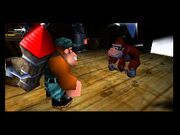 Funky's Store, also called Funky's Armory, is a place where the Kongs can buy weapons and weapon-related upgrades in Donkey Kong 64. The music and atmosphere of the shop resemble an army surplus store, as does the design of the owner, Funky Kong.
Weapons
All weapons cost 3 coins and hold up to 50 ammo, and are available as soon as the Kongs first visit Funky's Store:
Upgrades
Features and uses
If a Kong visits Funky's Store while having less than the maximum amount of ammo, he will increase their ammo to the maximum.
Trivia