Welcome to the Donkey Kong Wiki Community Portal!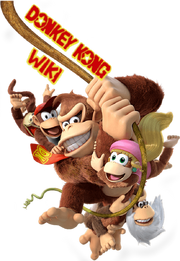 Donkey Kong Wiki is a collaborative project to create the ultimate source for information about the Donkey Kong series by Nintendo. That means we need your help!
If you haven't done so already, we suggest you sign up and create a username. This will help other users identify you and give you credit for all your hard work! It will also hide your IP address from public view. We recommend that you use a pseudonym instead of your real name as your username.
This page contains information to help you get the most out of your time on this wiki. In particular, you might want to look at our rules. We hope you find the site useful and enjoy working with us to improve it!
If you want to leave general questions or comments, or discuss the wiki as a whole, you can do so at Donkey Kong Wiki talk:Community Portal!
General information
Donkey Kong Wiki:About - A general overview of the site and its history
Donkey Kong Wiki:Policy - Some rules and guidelines that our users are expected to follow
Forum:Index - The main page of our forums, where you can chat and get to know other members of the Sonic News Network community
Who are our Admins?
The current active administrators are:
Any of these users should be willing to help you with whatever problems you have.
How can you help?
The best way to help out is to create new content. If you know something about Sonic that we don't, add it! You can get a good idea of what we already do and don't have by browsing or searching our articles. If you find that we don't have a page for something and you think we should, then you can create one:
In addition, you can:
If you want to experiment with editing, use our Sandbox! There's always more to help out with, if you know where to look!