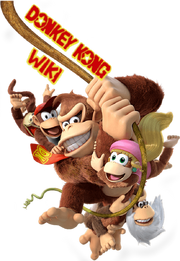 Donkey Kong Wiki was created on May 25th, 2008, by Wiki443556, to create a large, neverending resource information relating to the Donkey Kong series, a series of games produced by Nintendo. Donkey Kong Wiki is a wiki, meaning that it is written and maintained by the community and can be instantly edited by anyone!
If you are interested in helping us, please considering registering for an account here. If you already have an account, log in and begin editing! Let the Wikiness begin! Everyone is free to create a new page or edit an existing one. You can help out by looking at our wanted pages or short pages. You can make mistakes, but don't let that discourage you!
Community content is available under
CC-BY-SA
unless otherwise noted.