Welcome to the Donkey Kong Wiki!
Welcome to an encyclopedic database for all things related to the Donkey Kong series that anyone can edit!
Featured Article
Vine Valley is the third area of Donkey Kong Island found in Donkey Kong Country. The area is a vast pine tree forest that includes a small treehouse village and a bridge leading to a small jungle. In the small jungle, there is a temple at a large bay connected to the ocean. The time of day is around dusk due to the setting sun in the background. (read more...)
Wiki News
January 1st 2017: CALLING ALL THEORISTS!! Interested in theorizing about all things Donkey Kong? Click here for more information!
September 2nd 2016: Check out PegasusMan's Monthly Blog posts to get up to date on how everything works on the wiki!
August 1st 2016: Monthly Cursors have begun! More information here.
June 27th 2016: PegasusMan edited and added to the wiki wordmark! Check it out!
June 14th 2016: PegasusMan has uploaded a new favicon to the wiki!
June 3rd 2014: Yoponot has adopted the wiki!
July 7th 2012: New skin feature has been implemented on the wiki skin. Check them out!
Helping Out
To write a new article, just enter the article title in the box below.
Not sure where to start?
If you are new to wikis, check out the tutorial.
Adding content
Every wiki has "Stub Articles" and "Wanted Articles". These articles need help. Help us out by making some articles and expanding some stubs.
Uploading images is another really easy way to help out - see the Upload page!
Want a fast and efficient way to edit? The Insights page has all that and more!
Monthly Poll
Which Donkey Kong game is the best?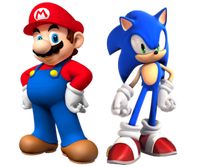 Platformer Games
Go to these sites for info or for help with your own wiki!
A Hat in Time • Azure Striker Gunvolt • Banjo-Kazooie • Bloodstained: Ritual of the Night • Broforce • Castlevania • Cave Story • Code: Hardcore • Conker • Contra • Crash Bandicoot • Croc • Cuphead • Donkey Kong • Drawn to Life • Epic Mickey • Ganbare Goemon • Geometry Dash • Jak and Daxter • Jazz Jackrabbit • Kirby • LittleBigPlanet • Mario • Mega Man • Metal Slug • Metroid • Oddworld • Ratchet & Clank • Rayman • Rocket Knight • Shantae (and WayForward games) • Shovel Knight • Sonic • Spyro the Dragon • Strider • Yooka-Laylee
Want your community included? See how!
See all of our Platformer gaming wikis!