Boss Keys, also called DK Keys, are important collectible items in the game Donkey Kong 64.
History
Unlikely friend
After his defeat in the events of Donkey Kong Country 3 (and Donkey Kong Land III), King K. Rool plotted to destroy DK Island in retaliation. His first plan was to use a massive member of the Kremling Krew, K. Lumsy, to destroy the island. But K. Lumsy refused, not wanting to destroy an island filled with "cute little monkeys." K. Rool deemed him too soft to be a Kremling and locked him up in a small island attached to his base, in a massive cage held down by eight locks, where he was to stay until he toughened up. He distributed seven of the keys to his most fearsome henchmen, while keeping the eighth one in his lair.
Alliance
After K. Rool's arrival at DK Island, and his theft of the Golden Banana hoard and friends, Donkey Kong finds his way to K. Lumsy's island. The giant Kremling tells his story, and is overjoyed when Donkey Kong agrees to help him regain his freedom. He warns them of how dangerous it will be to get the keys, and stresses not to tell K. Rool, that it must be their secret.
Gameplay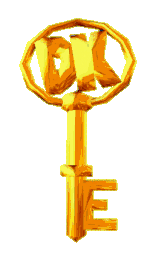 Collecting the eight Boss Keys is crucial to completing the game. In most of the occasions that K. Lumsy is brought closer to freedom, his dancing for joy causes the path to the next level to reveal itself. Once all eight keys are retrieved and the locks removed, K. Lumsy will pursue the King Kruiser II, making it to drop down and preparing the path to the final battle with King K. Rool.
Key Locations
Trivia
Although the eight keys are mandatory to complete the game, by employing glitches only two are necessary, the one from Frantic Factory and Hideout Helm. It is because these two keys are the only ones that cause the King Kruiser II to crash, regardless of whether the player released or not K. Klumsy.[1]
There is a glitch in which the player can get the key to the level Fungi Forest in Angry Aztec, and when the player enters Troff and Scoff's portal from Fungi Forest, the boss door will be closed and with a sign that it is already completed, and at the time of exit, the portal will disappear.[2]
References