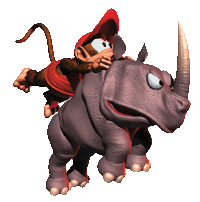 Animal Buddies are different types of creatures that appear in the games of the Donkey Kong series and aid the Kongs on many of their adventures against the Kremling Krew and other villains such as the Snowmads.
Overview
Animal Buddies are usually found inside Animal Crates and most of them can be ridden by the primates, being controllable by the player. They possess special abilities, allowing the heroes to move faster, attack regular and strong enemies, fly, jump high, reach inaccessible locations for the Kongs or even uncover secrets. However, some Animal Buddies just help the primates by serving a function in order to the heroes traverse environments in the games, such as illuminating dark places, freezing water or locating special items.
Some Animal Buddies throw projectiles in order to harm most of the enemies in the games, and some of them are capable of bouncing safely on enemies too strong for the Kongs, such as Zingers and Krushas/Krunchas. Animal Buddies do not interact with ropes, vines, hooks or some vehicles, and most of them cannot carry objects, such as barrels.
In some games, it is possible to clear stages using an Animal Buddy, however after leaving the current location, they are lost, and the player takes back control only of the primates. In other games, the Animal Buddies are limited by specific areas. In Donkey Kong Country 2, Donkey Kong Land 2, Donkey Kong Country 3 and Donkey Kong Land III, they cannot move past No Animal Signs, disappearing right after crossing over the signs. However, at the same time, the Animal Buddies are usually turned into rewards, such as banana bunches, Extra Life Balloons, Banana Coins/Bear Coins, DK Coins or even Bonus Barrels.
In the earlier games, the heroes can also transform into Animal Buddies by using Animal Barrels. The same usually also happens after breaking open Animal Crates in the Game Boy Color version of the game Donkey Kong Country. When two Kongs are present during the transformation, the secondary character appears as an icon for the respective Animal Buddy at the bottom of the screen. It allows the Animal Buddy to take damage once without the player losing an extra life. When it happens, the main character is defeated, the secondary one takes their place, and the Animal Buddy icon at the screen disappears. However, the player can summon the character lost and the same icon by touching a DK Barrel.
List of Animal Buddies by Games
Beta Animal Buddies
Cancelled Animal Buddies
Possible Animal Buddies
Though these animals have never been confirmed as Animal Buddies most of them have nonetheless been helpful in their appearances. However, some of them are considered enemies, despite they usually being harmless to the Kongs.
Gallery
Trivia
References